Creating an ideal home office.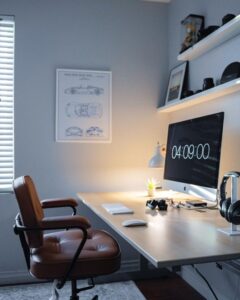 Working from home is a new reality in modern business. After the pandemic, many jobs never returned to an office with many more switching to a blended schedule.
This transition to working from home certainly hasn't come without hiccups, notably finding the space to be able to work from home. People who didn't need a home office before found themselves working from dining room tables and bonus rooms, and now many are looking to build the home office of their dreams.
So, where do you start on your ideal home office? The largest consideration you need to make is your job. A home office is of no utility if you can't perform your work duties in it. Consider the location: is it next to your kid's playroom, or the air conditioner? Too much ambient noise can make concentrating on work and attending video calls difficult. While planning out every part of your home office you should keep in mind how each aspect could affect how you perform your job.
A good plan will set the foundation for the rest of the project. Search online for inspiration and figure out a general aesthetic you want for the room. Some people work best in a creatively busy space, while others prefer a minimalistic clean aesthetic. A home office is a chance to create a  unique space that encourages your productivity and blends your work and home life. Pick furniture, work equipment, and wall color that speak to you and the kind of space you want to work in.
An underappreciated aspect of the workplace is the lighting, a home office presents the opportunity to shed the harsh fluorescents of an office building. Arranging your workspace to utilize natural light will make for a more pleasant and comfortable environment, it also provides a more natural look for video calls. When natural lighting isn't an option consider adjustable lights you can adapt for multiple work situations.
Storage is an area that may require some extra attention. Often a home office is a smaller room or has to pull double duty. Creative storage solutions can maximize the utility of an office with minimal incursion on your workflow. Custom cabinetry can add unique warmth and incorporate a desk or workspace into its design. There are also countless off-the-shelf solutions to add storage to your office space at any budget.
Finally, make sure it has a personal touch. A home office is still a part of your home. Decorate it appropriately, but personally. Many people fill their home office with plants to feel closer to nature during the workday, while others surround themselves with family photos and heirlooms. Whatever your personal flair may be, make sure you add it.
If you see yourself working from home for the foreseeable future keep all this in mind before creating a home office. After all, it's a lot easier to get up and start working when you love the space you work in!
WHAT CAN WE HELP YOU WITH?