Doing a full house renovation? Here are 5 things to keep in mind!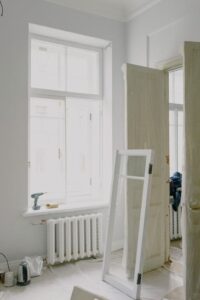 Whether you're tired of looking at the same old walls or you're about to move into a fixer-upper, we know that dreamy look when you start thinking about a full house renovation. We also know that renovating an entire home is a tremendous undertaking that requires strategy, planning, and patience.
It can be overwhelming for anyone and you'll make some mistakes along the way, but with thoughtful planning, a budget that feels right for you, and a bit of spark and vision, you can turn that place into something that's truly yours, touched by your own creativity and imagination, and maybe even some sweat equity.
Here are 5 things to think about before doing a full house renovation:
Prioritize based on greatest need or largest expense. Is the HVAC on the blink or the electrical needs rewiring? Or perhaps that water leak has seriously messed up the floors and you want to avoid further damage, or even worse, mold. A kitchen remodel is pretty major, especially if you'll be replacing appliances and selecting custom cabinetry. Get clear about the "big" stuff and invest there first.
Budget where to spend, on what. You may be hiring professionals to do your full house renovation and we all know the sky's the limit on spending. But decide where you want to go higher end and where you're content with mid-range options, whether you're choosing bathroom fixtures or kitchen cabinets or you're designing a new walk-in closet. If door handles are no big deal to you, you don't need fancy expensive ones on every interior door. On the other hand, if there are fixtures and features that express your personality, by all means, put your money there.
Consider zoning and permits, if needed. Are you building a new attachment onto your house? Replacing the roofing? You'll likely need a permit for this type of work. If you're doing anything that involves excavation of the land, you'll likely need zoning approval as well. Work these into your overall project timeline and consider how they might impact other aspects of your project and budget.
Plan and coordinate DIY projects. While the pros are doing the heavy lifting on your full house renovation, you may want to save money or simply get creative on some aspects of the project, such as painting or doors, knobs and hinges. Think about timing with other types of work being done and stay in communication with the project manager. If you choose to manage your home renovation project yourself, keep in mind that it will require a lot of forethought and strategy as well as coordination with numerous vendors. We recommend having a project manager; it's just easier!
Stay flexible and patient. You'll have workers going in and out of your home for weeks, maybe months. That's the reality of a full house renovation. You may want to plan time away or stay somewhere else part-time, to give yourself a break from all that construction. It may seem like it's taking forever, but the work will get done and you'll soon be kicking back in your new favorite place to be.
Making the choice to build, remodel, or expand are all major decisions one makes in life. Choosing the right contractor can and will make all the difference. Call (941) 218-6624 to get the conversation started.
#builtbybishop #floridaconstruction #floridahome #floridarenovation #buyingflorida #floridaliving #bishopconstruction #interiordesign #constructionlife #homeinspo #residentialcontractor #residentialdemo #residentialconstruction #architectinspo #bathroominspo #wholehomerenovation
WHAT CAN WE HELP YOU WITH?